Valentine
Valentine is a romantic drama and comedy created by Kevin Murphy. Valentine is a movie about a loveless world with Ancient Greek gods who are trying to bring love out of people. The gods have made it their goal to make couples come together. Aphrodite and Eros are the excitable two of the group. They come down to Earth and keep their true selves hidden from man kind. With the wake of modern times the gods methods aren't working. They must find a new way to bring love into the air or they risk becoming mortal themselves. With the help from a romance novelist they find ways to bring love back.
1 Season,

8

Episodes

October 5, 2008

/

10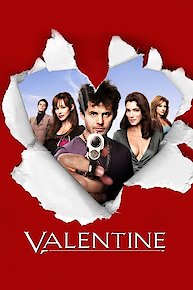 Valentine Full Episode Guide
Episode

8

-

God Only Knows

Grace finds an unconventional way to get a couple together. Ray wants to return the Adamantine Blade to Hades, but then a strange woman shows up.

A high-school couple is reunited by Grace and Leo. Ari and Ray are searching for Aunt Circe and the Adamantine Blade.

Recently divorced movie reviewer, Mona McAllister (guest star Ana Gasteyer, "Saturday Night Live") and her beloved dog Clovis are new to the city. Mona's next-door-neighbor, Duncan (guest star Josh Malina, "The West Wing") may be an interesting romantic prospect, but Clovis seems intent on keeping the two apart. When the Oracle reveals to Phoebe (Autumn Reeser) that Clovis and Mona are true soul mates, Danny (Kristoffer Polaha) and Kate (Christine Lakin) seek help from Aunt Circe, (Ann Magnuson) an ancient witch practiced in the art of metamorphosis.

Episode

5

-

Summer Nights

Grace wants to bring her new hired personal trainer and her nutritionist together. However there's some past with Kate. Ari is missing his love gun.

Episode

4

-

The Book of Love

Episode

3

-

Act Naturally

Tucker Blumsack, a Los Angeles theater manager, has his world thrown off balance when a movie star, Vivi, literally comes crashing into his life. Grace, Danny and Kate team up to save Vivi from jail time and get Tucker and Vivi together in order to have them realize they are meant for each other. Meanwhile, Phoebe doubts the motives a a mortal woman that enters their lives and has Leo help her confirm her suspicions about her.

Grace's affair with Ray is put on hold when her hsuband, Ari, the god of war, returns home. There, Ari tries to get Danny to work for him instead of in the love business. Meanwhile, Morgan, a chemist, pines for Nisha.

The Valentine family are sent to Los Angeles from Mount Olympus to help orchestrate romance between soul mates. In order to boost the family business, Valentine family matriarch, Grace Valentine, hires romance novelist Kate Providence for help.
If You Like Valentine, Then Try...